When the speed effect is opened, the event list appears.
Event Registration
Seek with scrub bar or playback control to event location.
Add an event with the "+" button.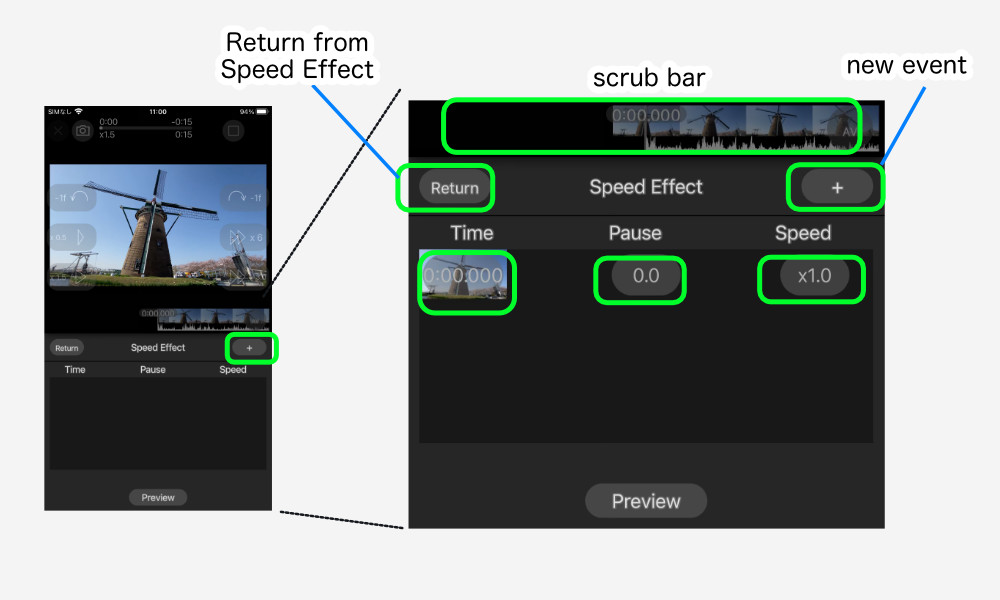 Change Parameters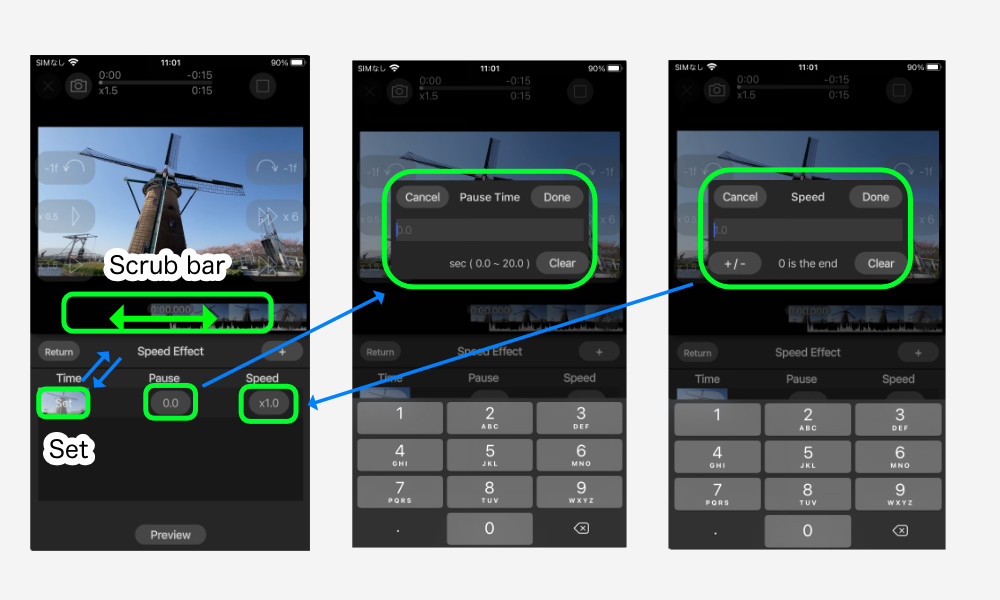 Time
This is the start time of that event.
The time of the first event is the start time.
Tap the time item for each event, and the time display will change to "Set".
In this state, move the time with the scrub bar or other device, and tap "Set" to change and save the time.
Pause
Specify the stop time (in seconds) at that time.
Tap the Pause item for each event to display the input panel.
0 to 20 seconds can be set.
Specify 0 for no stop.
Speed
Sets the playback speed after a pause.
Tap the Speed item for each event to display the input panel.
Reverse playback with minus designation is also available.
Also, if 0 is set, that time will be the end time.
If the speed effect causes the speed to be less than 0.5x or more than 3x, the audio for that portion will be cut.
Deleting Events
Slide the list item to the left to display the "Delete" button.
Tap the "Delete" button to delete the event.
Preview
The "Preview" button allows you to preview the settings. Tap again to stop.
The preview here does not play back as smoothly as the actual output video.
Please use this as an approximate guide.
Setting Example
Converted to 10x speed from start to finish
| Time | Pause | Speed |
| --- | --- | --- |
| 0:00.000 | 0 | 10 |
Use only the first 5 to 10 seconds after the start of a 15-second piece of content.
| Time | Pause | Speed |
| --- | --- | --- |
| 0:05.000 | 0 | 1 |
| 0:10.000 | 0 | 0 (End) |
Normal playback at first, 0.2x slow at 2 seconds, pause 1 second at 3 seconds, then reverse playback
| Time | Pause | Speed |
| --- | --- | --- |
| 0:00.000 | 0 | 1 |
| 0:02.000 | 0 | 0.2 |
| 0:03.000 | 1 | -0.2 |
| 0:02.000 | 0 | -1 |