Touch The Video new version v1.4 has been released in the App Store.
As always, functionality and operation have been more enhanced by having some new features.
Here are changes with the v1.4.
Supports for embedded chapters in a video file
From this version, TouchTheVideo can utilize embedded chapters made by another application such as HandBrake and so on.
Embedded chapters are automatically registered as "markers" in TouchTheVideo so that you can jump there or repeat playback between them as well as the original markers of TouchTheVideo.
Title names of embedded chapters are shown with green background to separate from normal markers.
Even when there are no embedded thumbnails for each chapter, they are automatically generated so that you can select visibly in the marker list while playing back. (This featured is not implemented with the standard "Video" application.)
Notes
Unlike normal markers, embedded chapters have no room to edit with using TouchTheVideo.
"Repeat All Marker" mode is intending to playback only normal markers, so embedded chapters are skipped.
Generally there are some different types of mp4 chapter formats, and TouchTheVideo supports "Apple Text format" which is compatible with the standard "Video" application.
For your information, it seems following application can create chapters in "Apple Text format". (as of 2012-Dec)
Background setting
Don't you think it is not so pleasant situation to see black blank space caused by aspect ratio difference between videos and screen especially when using white model?
(e.g. at the top/bottom of 16:9 video on 4:3 screen or at the right/left of 4:3 video on 16:9 screen)
Example of situation playing 16:9 video on white iPad mini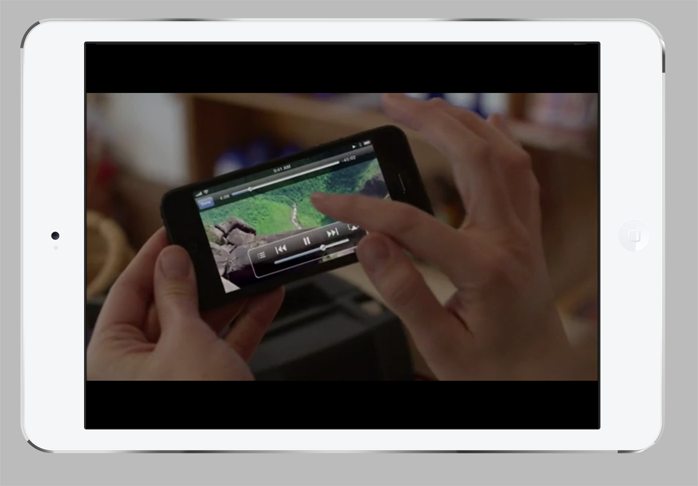 By comparison, the situation would be like this with black iPad mini.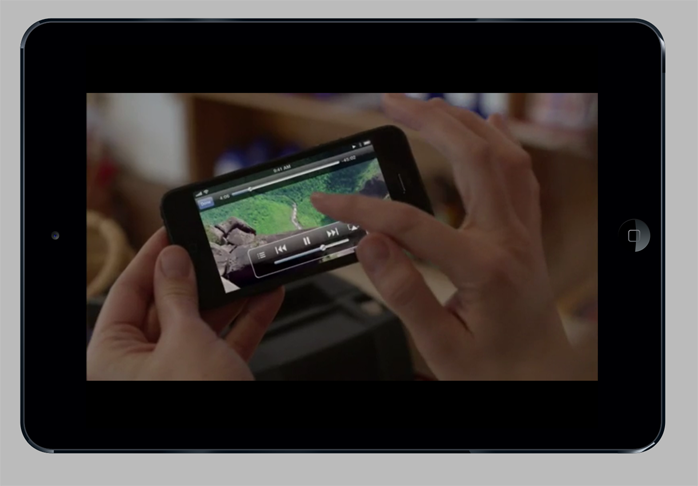 For this reason, we guess not a few people would prefer black iPad to watch videos. But there might be also a case white model is preferred for other purpose than watching videos, so you might not be able to select the most preferable model color.
So, Touch The Video has implemented a new feature for background adjustment for the blank space.
And the situation becomes like this.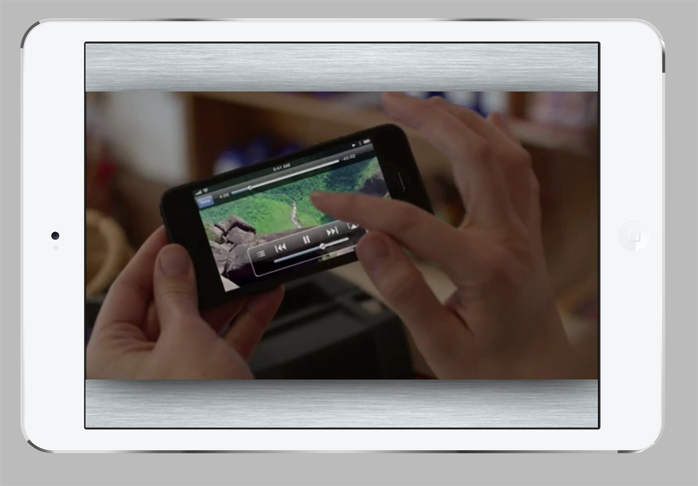 iPad looks like a stylish frame. We hope you like it.
You can change the background from "Setting" -"BackGround"-Brightness".(Default background is Black as before)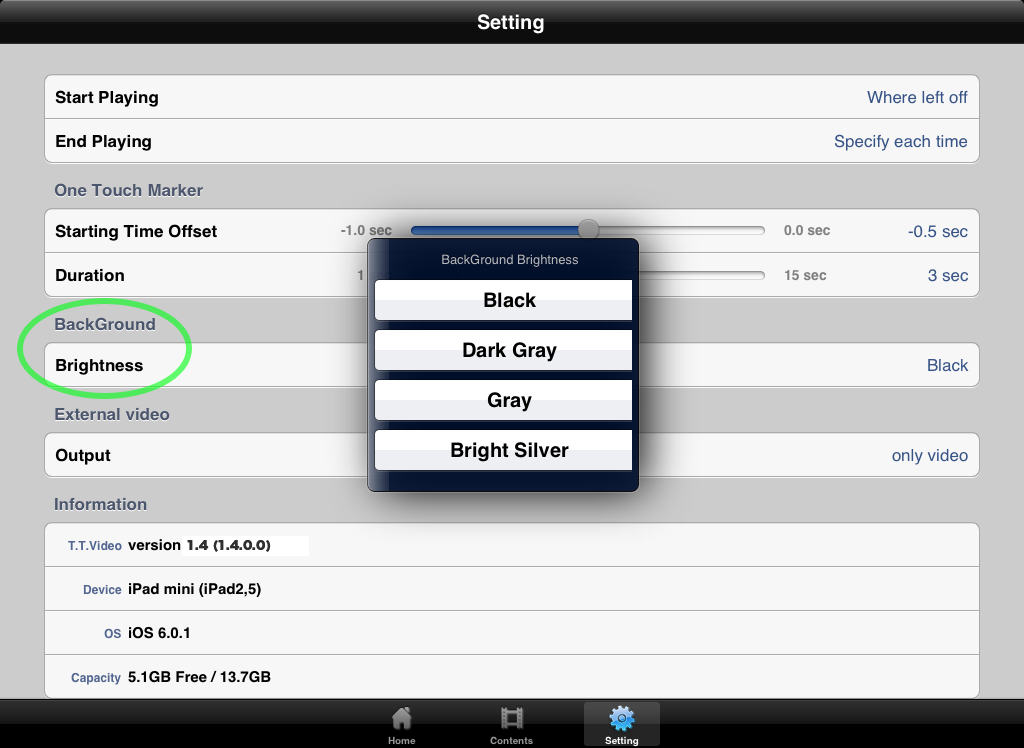 The first example is "Bright Silver".
Other than that, there are options for "Gray" and "Dark Grey".
"Gray"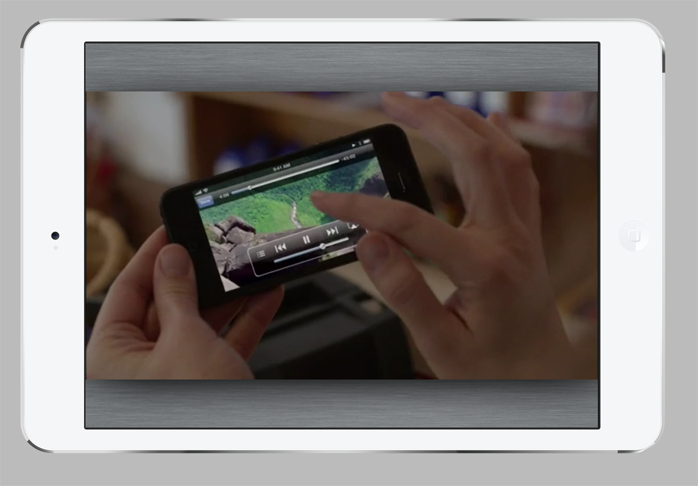 "Dark Grey"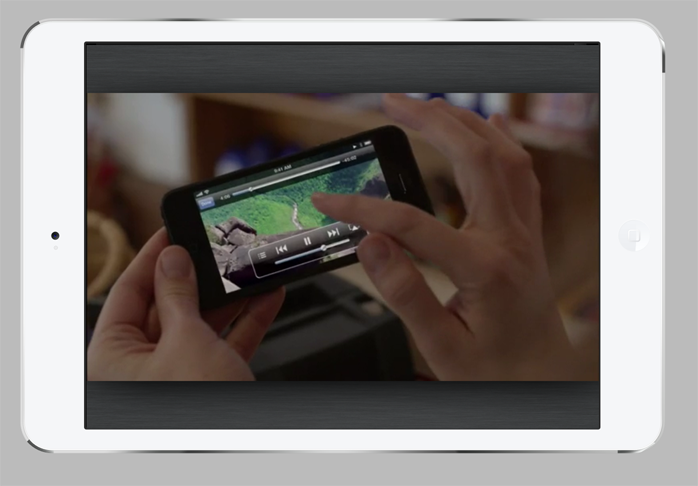 For your information, a black model with "Dark Grey" background looks like this.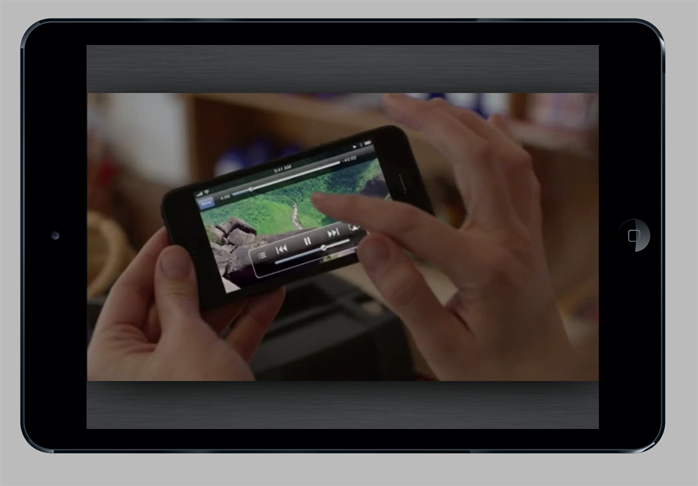 Improved menu operation
There are 3 different playback modes in TouchTheVideo, "Normal Menu mode", "Small Menu mode" and "Full Screen mode (with no menu)". To satisfy both of having more chance of "Full Screen mode" and enabling timely menu-operation when necessary, we have improved the specification of mode transition policy and menu on/auto-off.
Below is mode transition summary related to menu operation.
iPad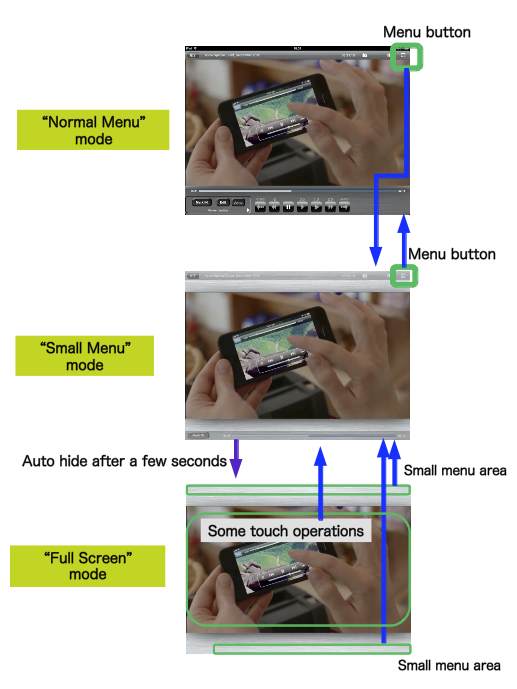 iPhone/iPod touch
Almost same as iPad, but the menu mode is automatically switched to "Normal Menu mode" when rotated to portrait orientation, or to "Small Menu mode" when rotated to landscape orientation.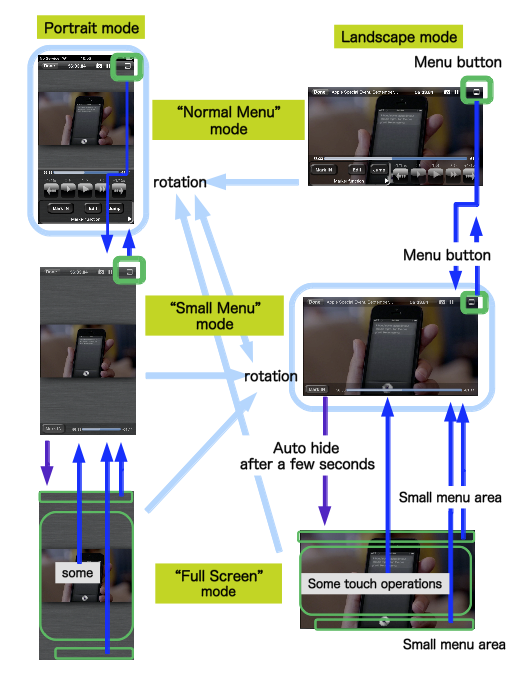 Changes from previous version
Now you can utilize "Full Screen mode (with no menu)" in almost any case though it was not sometimes available in some situation such as during repeat playback and so on.
In "Full Screen mode (with no menu)", almost all the major operations can be done without switching the menu mode to "Small Menu mode" unlike before. There are some exceptions as we intends below operations are convenient to use with the "Small Menu".

Holding "Jump" button to for continuous jumping
Scrubbing on Pause
Changing play speed while playing (vertical slide)
Touch The Video as your usual App for viewing videos on iPhone/iPad/iPod
Touch The Video is continuously going to be improved to have more features and better performance, and to be more user friendly application. We need and welcome your valuable feedback or feature requests. Feel free to contact us anytime from contact web page or facebook.
Please do not forget to "Like" us on facebook or evaluate us at App Store Customer Ratings or Customer Reviews.
Download and enjoy your "Touch The Video V1.4" !
View in App Store