Touch The Video new version v1.2.4 has been released today.
The version up this time is mainly for bug fixes.
Here is what has been changed with v1.2.4.
[Bug fix] Marker function did not work when playing back from "Contents list".
When playing back iTunes Library contents from v1.2.3 contents list, there were some problems such as marker function did not work, no title appeared or viewing history was not correctly saved. These bugs have been fixed with v1.2.4 this time.
[Bug fix] Bugs in marker function
When quitting marker playing back or tapping another marker while playing back marker, there was a case next marker operation was not performed as intended. These bugs have been fixed with v1.2.4 this time.
[Bug fix] Thumbnail disappeared after backup/restore.
When doing backup/restore with using iTunes, thumbnail of video disappeared and never showed up, but have been fixed with v1.2.4 this time.
[Improvement] Marker position display for marker playing back
This might be a kind of pretty minor feature 🙂
but currently marker position/duration has become indicated on the time bar. (Previously it was shown only when editing marker.)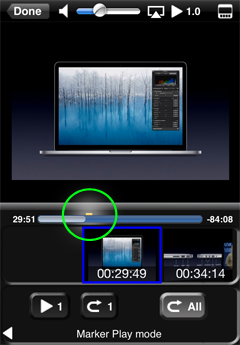 Touch The Video as your usual App for viewing videos on iPhone/iPad/iPod
Touch The Video is continuously going to be improved to have more features and better performance, and to be more user friendly application. We need and welcome your valuable feedback or feature requests. Feel free to contact us anytime from contact web page or facebook.
Please do not forget to "Like" us on facebook or evaluate us at App Store Customer Ratings or Customer Reviews.
Download and enjoy your "Touch The Video V1.2.4" !
View in App Store