Touch The Video new version v1.6 has been released in the App Store.
Here are changes with the v1.6.
Contents list becomes Group layered style
In previous versions of TTVideo, all videos were listed in one flat layer, but from this version contents are classified in Group layered style.
Also repeat playback is available within each group.
All Files List
All the files are listed in same flat style as the previous contents list.
My Favorite Videos
All favorite videos are also listed in a dedicated group "My Favorite Videos".
Now you can check your all favorite videos at a glance and also set the favorite attribute on/off easily. The video listing order can be changed and loop playback follows the specified order.
iTunes file share
Videos are listed under sub groups below.(iOS5 or later)
The video listing order can be changed.
Camera Roll
Videos are classified in "date" folder.
iTunes Library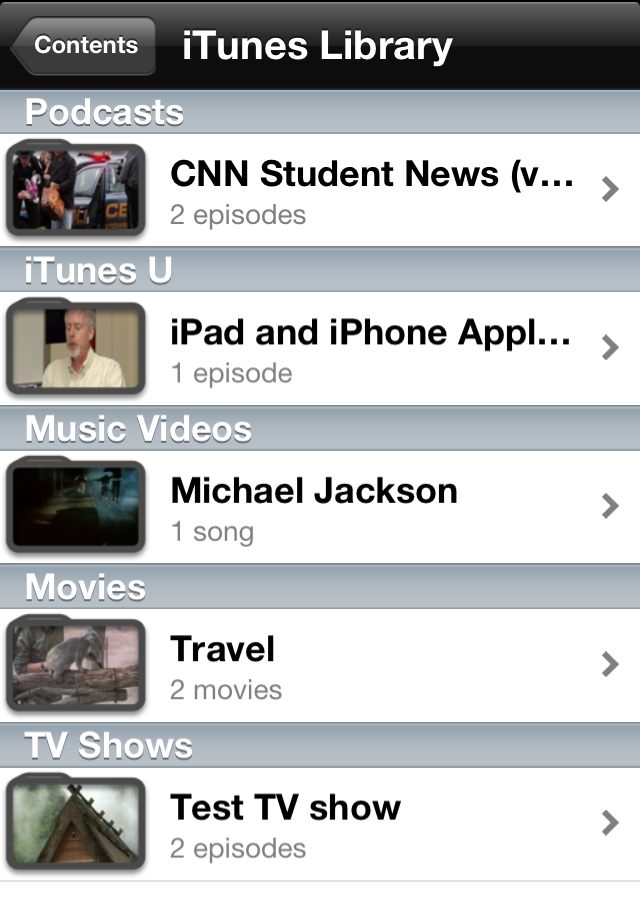 Videos are listed under sub groups below.
Podcast:by Album
iTunes U:by Album
Music Videos (new):by Album or Artist
Movie:by Album or Genre
TV programs:by Program
Screen rotation lock
You can select Screen rotation on/off at the Setting tab.
When you select "Show Lock Button" ON, lock ON/Off button will appear for a few seconds on the screen when rotated, so that you can change the setting quickly also by tapping there.
(The button will not appear while the menu is set to OFF and a small menu is hidden. In that case please tap on menu area around top or bottom of the screen so that the button temporarily appears as well as a small menu. )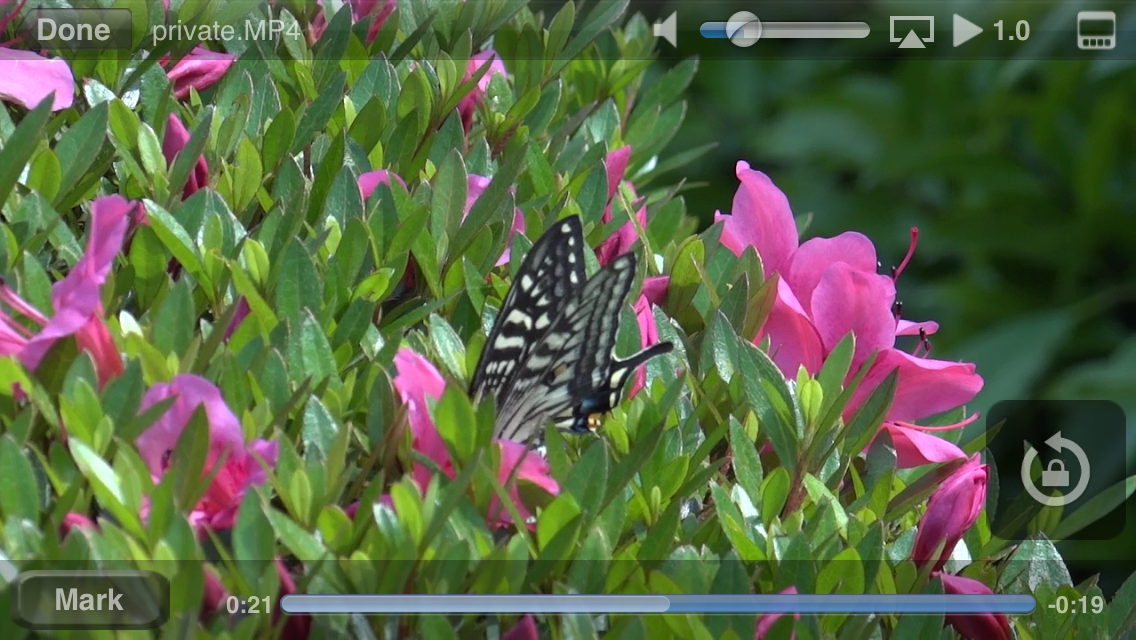 [Note] iOS rotation lock setting has priority over the app setting.
Mirror image(iOS5 or later)
If you would like a mirror image video playback, turn the "Horizontal reverse" setting ON.
(Utilize this feature for dance learning and so on)
External Video output
Over-scanned HDMI output (previously Under-scanned)
"Laser pointer" ON/OFF setting can give you normal "touch operation" when the pointer is OFF.
Even when the laser pointer is ON, two finger operation for zoom in/out and scroll becomes available.
Laser pointer
ON
OFF
One finger operation
show Laser pointer
play,pause,scrubbing etc.
Two finger operation
Zoom in/out,Scroll
Other changes
Improves sensitivity for "Menu" button and "done" button on playback screen.
Fixed unexpected affection to audio volume by touching around "Capture" button on playback screen.
Bug fix for when Settings app – General – International – Calendar setting is other than "Gregorian".
Date/Time format has complied with what's specified in Settings app – General – International – Region Format / Calendar.

Other minor bug fixes.
Touch The Video as your usual App for viewing videos on iPhone/iPad/iPod
Touch The Video is continuously going to be improved to have more features and better performance, and to be more user friendly application. We need and welcome your valuable feedback or feature requests. Feel free to contact us anytime from contact web page or facebook.
Please do not forget to "Like" us on facebook or evaluate us at App Store Customer Ratings or Customer Reviews.
Download and enjoy your "Touch The Video V1.6" !
View in US App Store
(for other countries, change store by clicking flag icon located bottom right of the next page)