Touch The Video new version v1.5 has been released in the App Store.
Here are changes with the v1.5.
Contents display control
You can hide/show any specific video files.You can set the private mode on/off at "Contents display control" on the Setting tab.
Only favorite files
If this menu item is set to ON, files whose "favorite" attribute at the video information are set to ON will be shown.
When you use the T.T.Video for your presentation, you can utilize this feature in case of you are not willing to show your usually watching video contents.
For more information, please see here.
[Showing only "favorite" files – you can show only your necessary files on presentation.]
Private Mode
Moreover, when you would like to completely hide your secret files, you can use "Private Mode".
You can set private attribute to each file to hide with password.
[Notes]
You can set the private attribute only for files in "iTunes File Sharing".
This feature is available only on iOS5.0 or later.
To know more about the private mode, please see here.
[Private Mode – Protect your secret files on iPhone/iPad by password.]
Specification change in external video output
There is a mirroring feature (clone video output) on iPhone(4S/5), iPad(2/3rd/mini/4th), and iPodTouch(5th) released after iPad2.
Previous TouchTheVideo ver.1.2.5 also had an external video output setting to allow you to select "Only video" or "Mirroring".
The actual behavior in the previous version exactly followed the setting when playing videos, but when not playing, the external video output was always "Mirroring". From this version, the application does not output anything (black screen) when the setting is "Only video".
Below is the summary.
Setting
Ver1.2.5-1.4
ver.1.5
on playback
other situation
on playback
other situation
Only video
Video output
Mirroring
Video output
Black screen
All (by mirroring)
Mirroring
Supports "Closed Caption"
The TouchTheVideo has become to support "Closed Caption" feature to show subtitle as well as the one of iOS standard application "Videos".
For your information, Apple Keynotes Podcasts are famous content having closed caption. (At this moment, it seems videos after Apple WWDC2012 Keynote Address are supporting CC). Please utilize the feature when necessary.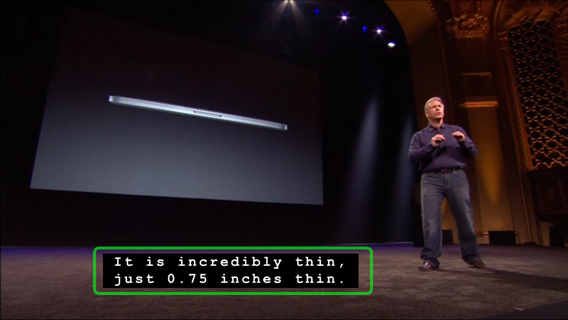 [Notes] Displayed subtitle is not saved by still capture function of the TTVideos. When you would like to capture the screen with subtitle, please use the iOS standard screen capture function. (Press Home + Sleep at the same time)
Touch The Video as your usual App for viewing videos on iPhone/iPad/iPod
Touch The Video is continuously going to be improved to have more features and better performance, and to be more user friendly application. We need and welcome your valuable feedback or feature requests. Feel free to contact us anytime from contact web page or facebook.
Please do not forget to "Like" us on facebook or evaluate us at App Store Customer Ratings or Customer Reviews.
Download and enjoy your "Touch The Video V1.5" !
View in App Store