The following is a guide to the changes in ver1.5.
GUI Improvement
Swipe back from the left edge of the list view to return
Swiping from the left edge of the list view was always a function to display the side menu, but has been changed to a function to go back through the hierarchy when in a subfolder.
If you are in each root folder, the side menu is displayed as before.
Capture buttons and other buttons are disabled when controls are hidden
The following buttons have been made non-operational when the controls are hidden because they are easily mistaken for the volume and capture buttons when closing the viewer with the controls hidden.
Volume button
Capture button
Exit mode button
Check button
HDR video-related fixes
Fixed an issue that caused color problems when editing and saving HDR videos
Fixed an issue that caused color problems when editing and saving HDR video.
Incidentally, the saved video will be converted to regular SDR video.
In the future, we plan to support the ability to save HDR video as it is.
HDR playback status, resolution, and frame rate added to screen display mode information display
In the video content, in the "Information Display" mode of the screen display mode, the lower right corner
Whether it is displayed in HDR or not
Resolution
Frame rate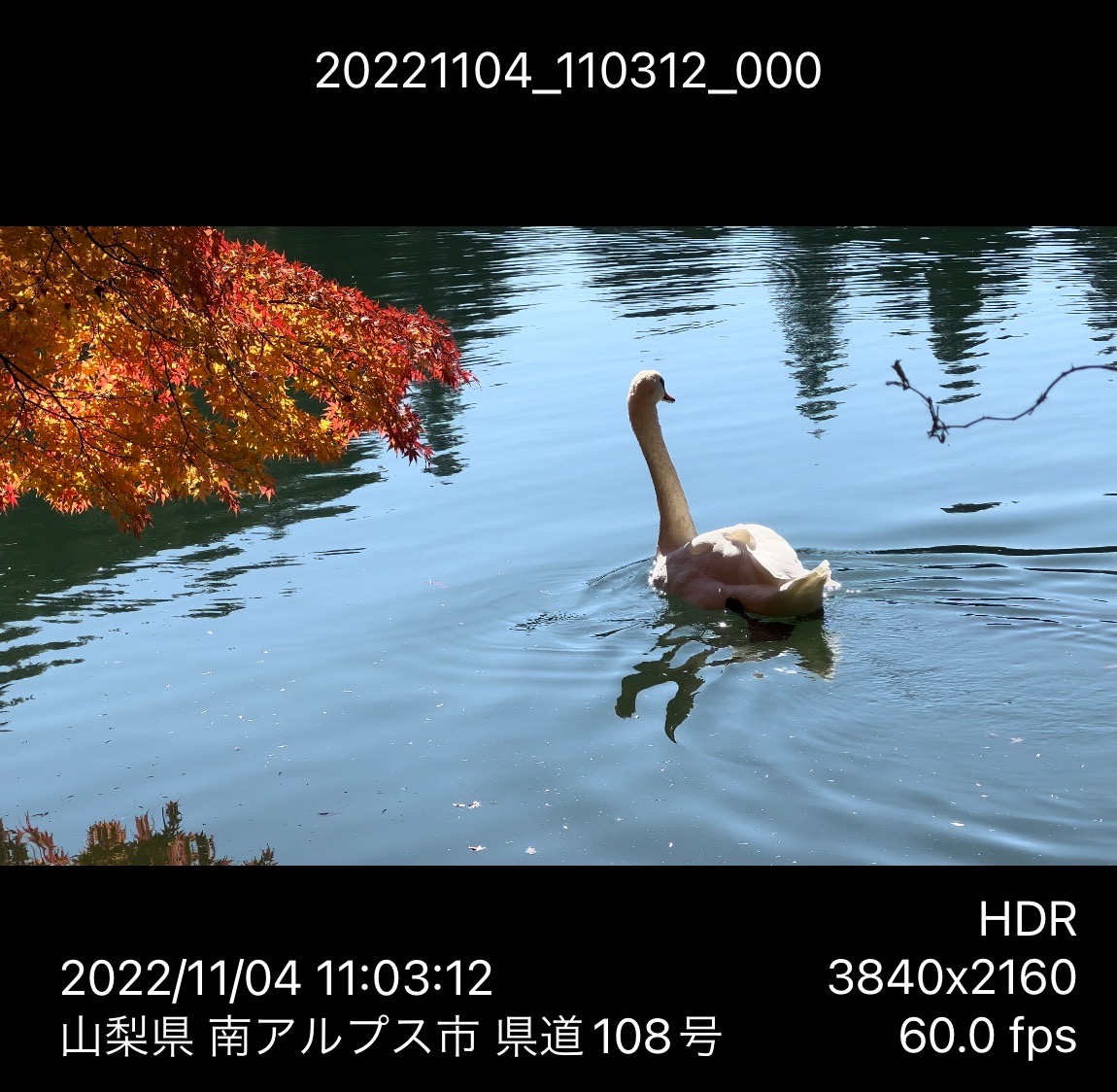 "HDR" is displayed under the following conditions
Playback content is HDR video
Device supports HDR playback.
Color adjustment in playback settings is "None" (if "Yes", SDR is displayed)
Color Adjustment for HDR Video
<iOS15 or earlier>
– Color adjustment preview is not available for HDR video, so the setting item has been grayed out.
<iOS16 or later>
– You can preview color adjustments in HDR video, but it will be displayed in SDR.
Current specifications regarding HDR
<HDR Video>
– Playback: HDR playback is possible on devices that support HDR playback.
However, if the color adjustment in the playback settings is turned on, the SDR display will be used.
– Save: Saved as SDR video.
<HDR Photo>
– Display: Shown as a normal photo.
– Save: Saved as a normal photo.
We plan to support these HDR functions sequentially in the future.
Other specification changes
Changed file name suffix for frame capture
The file name of a conventional flake capture is original file name + "-AmBsC".
A: Capture time (minutes)
B: Capture time (second) 2 digits
C: Capture time (msec) 3 digits
A did not specify a digit, but we changed it to a 3-digit designation.
Captured images will be displayed in time order.
AVIF file support (iOS16 or later)
AVIF files, a new generation image file format, can now be displayed.
Animated display and saving to AVIF are not supported.
Other bug fixes
Problem with peer transfers not terminating properly
Fixed a bug at the end of receiving that prevented the dialog from closing and multiple files from being sent.
Color adjustment related problems
Fixed several problems, including ineffective lip-sync settings.
Use TouchTheVideo Plus to manage your videos and photos!
Most features are available in the free version. The free version is also (for now) free of advertisements.If you are working with video or photos on your iPhone or iPad, please give it a try.

View TouchTheVideo Plus in the App Store